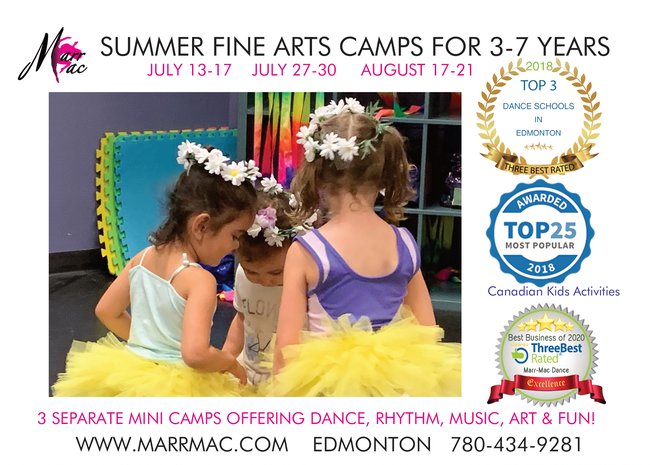 MINI SUMMER CAMPS 2020 FOR 3-7 YEAR OLDS
Our camps are designed for those children, whose preferred method of transportation is twirling, skipping, and leaping around your house; who can be seen holding a wand in one hand and a crayon in the other.
These camps are for those FINE ARTS kids who love everything about Singing, Dancing & Crafting.
Come join us this summer for some Fine Arts FUN!!
______ Summer Camp #1 (5 Days) $225.00 plus g.s.t.
July 13-17  Ages 3-7 years 9:30 am – 12:00 pm
______ Summer Camp #2 (4 Days) $195.00 plus g.s.t.
July 27-30 Ages 3-7 years 9:30 am – 12:00 pm
______ Summer Camp #3 (5 Days) $225.00 plus g.s.t.
August 17-21 Ages 3-7 years 9:30 am – 12:00 pm
OR $50.00/day plus gst
JUNIOR – SUMMER DANCE 2020 – JAZZ & LYRICAL 8-11 YRS.
ALL EXPERIENCE LEVELS WELCOME!
August 17-21 Monday to Friday
Daily – Warm up, Jazz & Lyrical classes
• 11:00-12:00 warm up & technique class
• 12:15 – 1:30 alternating daily – Jazz & Lyrical
• Fee $225.00 plus gst. $236.25
• Drop in rate $45.00 per day plus gst. $47.25