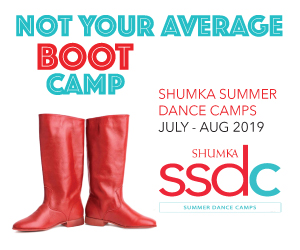 Shumka Minis Ages: 3–5 $130
Instructor: Peter Eeles
The youngest "Shumka Dancers in training" will begin a journey of Ukrainian dance as they are introduced to the culture, folklore and dance that go along with our rich Ukrainian heritage. All activities and crafts have a strong Ukrainian cultural and educational focus. Themes and concepts are reinforced throughout the week in a logical, creative, and enjoyable manner. Campers perform a full concert at the end of the week, including a regional Ukrainian dance and an art show display.
Bannock & Borscht NEW Ages: 6–8, 9–12 $250
Instructors:
Tasha Orysiuk, Nikolai Lychak
SHUMKA's production, Ancestors & Elders, is a story of the first Ukrainian newcomers to Canada, exploring the shared values and respected differences between these hopeful settlers and the First Nations people they encounter. Campers will experience a blend of First Nations and Ukrainian cultural folklore activities, including making Bannock and Borscht, drumming, beading, traditional games, storytelling, smudging, powwow
dance, costuming, and an adventure to the Ukrainian Folklore Centre and Provincial Museum. Learn from the experts in each field.