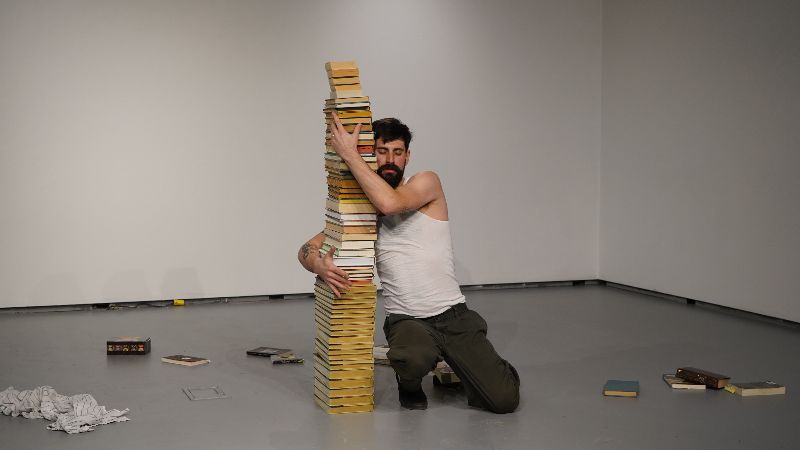 photo Joanne Gervais
IN LIEU: Ben Gorodetsky & Larissa Poho
August 15th | 7:00 PM Mountain Time
On Zoom
Free, or Pay What You Will
In lieu of their cancelled dance-theatre performance Biblioteka (march 2020) at Mile Zero Dance, Ben Gorodetsky and Larissa Poho present IN LIEU.
FEATURING:
Dolik's Clothes – 12 minutes, 2020
A video-dance-eulogy by Ben Gorodetsky.
"My grandfather Dolik Lutsky died on April 3, 2020. We were unable to gather for his funeral, left to sort through our grief alone. One small relief was my grandmother mailing me a box of his clothes. Using these garments as performance artifacts I've created a digital video piece reimagining grieving rituals in the age of COVID. I explore the ceremony of wearing Dolik's clothes and reactivating the narrative, cultural, and physical threads of his life. Soviet oral histories provide textual counterpoint to the dance video created through aerial drone photography. Country roads and lakes frame this physical score exploring grief and memory."
Commissioned by Dancing on the Edge Festival
Larissa Poho plays a solo set of songs and stories from her deep well of Ukrainian folkloric tradition.
AN IMPROVISED DUET WITH A SWAMP
Larissa will play violin and accordion. Ben will broadcast live from the swamp near his house. A site-specific, movement and music improvisation for a digital audience of people and a live audience of frogs.