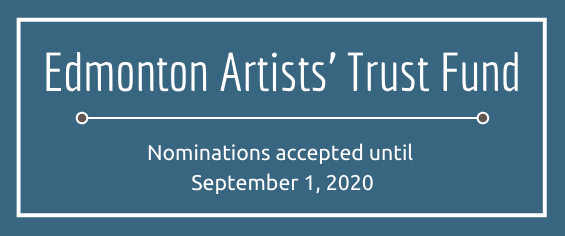 Deadline: September 1, 2020

When this date falls on a weekend or holiday, the deadline moves to the next business day.
The EATF was established in 1997 by John and Barbara Poole, Edmonton Community Foundation (through a transfer of funds from the ECF's Community Fund) and the Clifford E. Lee Foundation, and was intended to invest in Edmonton's creative community. The award recognizes an artist's work and contribution to the community as well as providing financial stability to renew, develop, create or experiment. Over the past 22 years the EATF has invested in more than 100 multimedia, literary, music, dance, film, theatre and visual artists; and contributed more than $800,000 to the arts economy.
For the 2020 deadline, ten $15,000 awards are available (thanks to the Foote Foundation established by Eldon and Anne Foote for additional funding support in 2019).
The EATF Award is open to any artist who is 18 years or older; a Canadian citizen or Permanent Resident; and a resident of the greater Edmonton region for at least one year prior to the deadline. This region includes the City of Edmonton and the Counties of Sturgeon, Parkland, Leduc and Strathcona, and the Indigenous communities adjacent.
Purpose
The Edmonton Artists' Trust Fund (EATF) is a joint project of the Edmonton Arts Council and the Edmonton Community Foundation. The EATF is designed to invest in Edmonton's creative community and to encourage artists to stay in our community. The funds are intended to offset living and working expenses, allowing the artist to devote a concentrated period of time to his/her artistic activities, career enhancement and/or development.
The Edmonton Arts Council is the administrator of the award process which includes inviting Edmonton area residents to apply, appointing peer assessment committee to adjudicate all applicants, and presenting the peer assessment committee's recommendations to the Board of Directors of the Edmonton Arts Council for approval.
Funds are intended to support:
Artists at all stages of their professional careers, in all fields and any artistic tradition, who demonstrate excellence in their field and commitment to working in and contributing to the Edmonton region's arts community.Funds are not intended to support:
Artists who primarily work outside the Edmonton region.