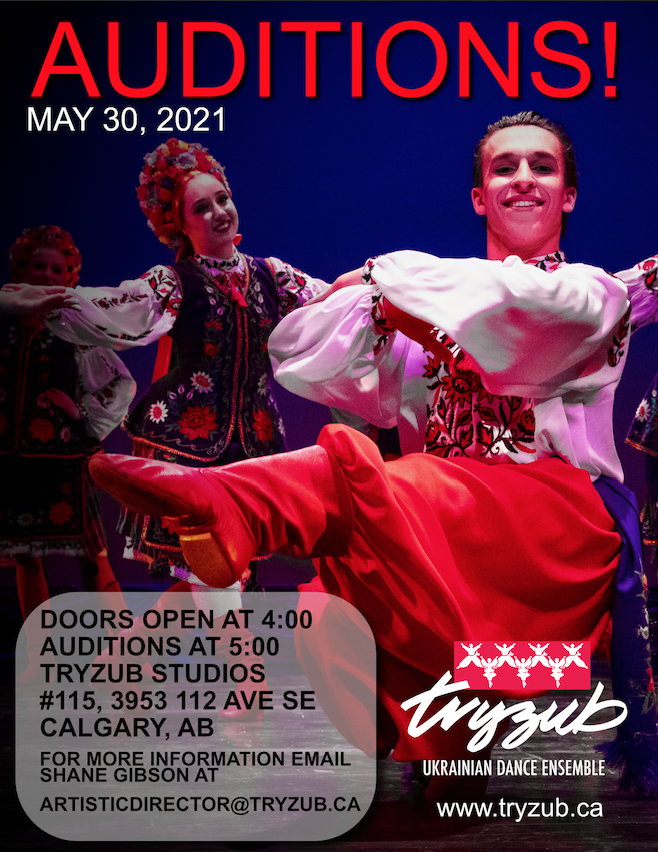 Date – May 30th 2021. Doors open at 4 pm. The audition starts at 5 pm.
#115, 3953 112 Ave SE Calgary, AB
Tryzub is always looking for enthusiastic and experienced dancers to join the Ensemble. Interested dancers must be at least 18 years of age, or 16 with parental consent. Involvement with the Ensemble consists of eight hours of rehearsals per week, in addition to performances, festivals, and fundraising commitments.
As Ukrainian-Canadians, dance enables us to participate in our cherished heritage and culture. Most of the dancers do not have formal dance training, yet we volunteer our time to express our pride, preserve the future of our culture, and make friends for life. Our determination and dedication shapes our character in ways which otherwise would go unexplored.
Even though all Ensemble rehearsals are closed, interested dancers are encouraged to contact the Ensemble Liaison at ensemblerep@tryzub.ca to make arrangements to attend a rehearsal or schedule an individual audition. Our studio will be complying with precautions and guidelines set out by our provincial government and health services.