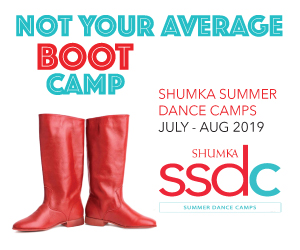 Shumka Minis – Ages: 3–5 $130
Instructor: Peter Eeles
The youngest "Shumka Dancers in training" will begin a journey of Ukrainian dance as they are introduced to the culture, folklore and dance that go along with our rich Ukrainian heritage. All activities and crafts have a strong Ukrainian cultural and educational focus. Themes and concepts are reinforced throughout the week in a logical, creative, and enjoyable manner. Campers perform a full concert at the end of the week, including a regional Ukrainian dance and an art show display.
Motion Mania – Ages: 6–8 $325, 9–12 $350
Instructors:
Tasha Orysiuk, Nikolai Lychak
If you like being active and on the move, then this is the camp for you! Campers
will experience a variety of age appropriate adventures such as laser tag,
swimming, rock climbing, gymnastics, go-carting, and the jungle gym. This is
paired with 15 hours of high-quality Ukrainian dance training and choreography,
culminating in a dance concert at the end of the week for families.