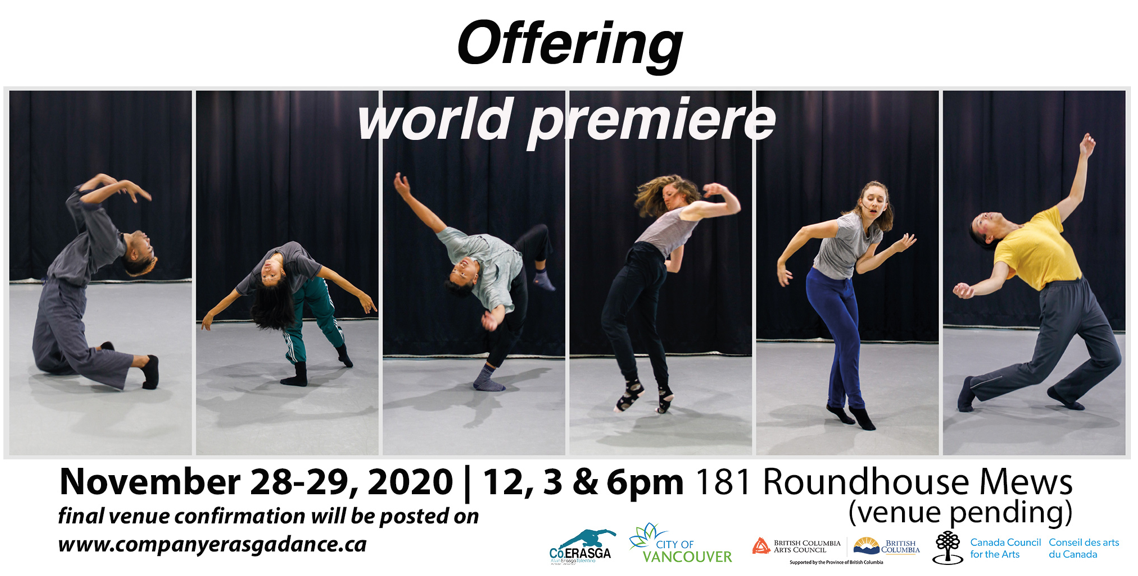 In honour and celebration of Co.ERASGA's 20th anniversary season, acclaimed choreographer Alvin Erasga Tolentino creates Offering, a collection of solo works for six dancers during this very trying time of COVID-19 pandemic. Six of Vancouver's outstanding diverse dancers perform Offering a thread of solo dances that aspires and honour the living practice- Dance and Dancing alive in this extraordinary time of pandemic crisis and isolating. How do our bodies relate, move and dance for our human and earthly place at this critical time of pandemic adversity? In this new creation, Tolentino ask each dancer to bring movements as a form of devotion and prayer –allow the dance transcends luminous energy and reach. Each dance and as whole, Offering becomes a performance rituals evoking a spiritual offer for a universal connectection, awareness and healing for the world.
Co.ERASGA's 20th milestone season faces an extraordinary challenging time of pandemic but we want to keep dance alive- We dance with gratitude with all our artists, arts partner and audiences in the last two decades of building and sharing dance together. More than ever, we rise to the gift and power of dance as the healing pulses for our human expression to be alive.
CREATIVE TEAM & PERFORMERS:
Choreography: Alvin Erasga Tolentino
Dancers: Joshua Ongcol, Olivia Shaffer, Marc Arboleda, Antonio Somera,
Molly McDermott and Marissa Wong
Composer: Emmanuel Mailly
Lighting: Jessica Han
Costume: Meagan Woods
Both 3pm PST (4pm MST) shows will be livestreamed.