Interactive Symposium – Ecologies of Together
August 19, 2019 @ 9:00 am

-

6:00 pm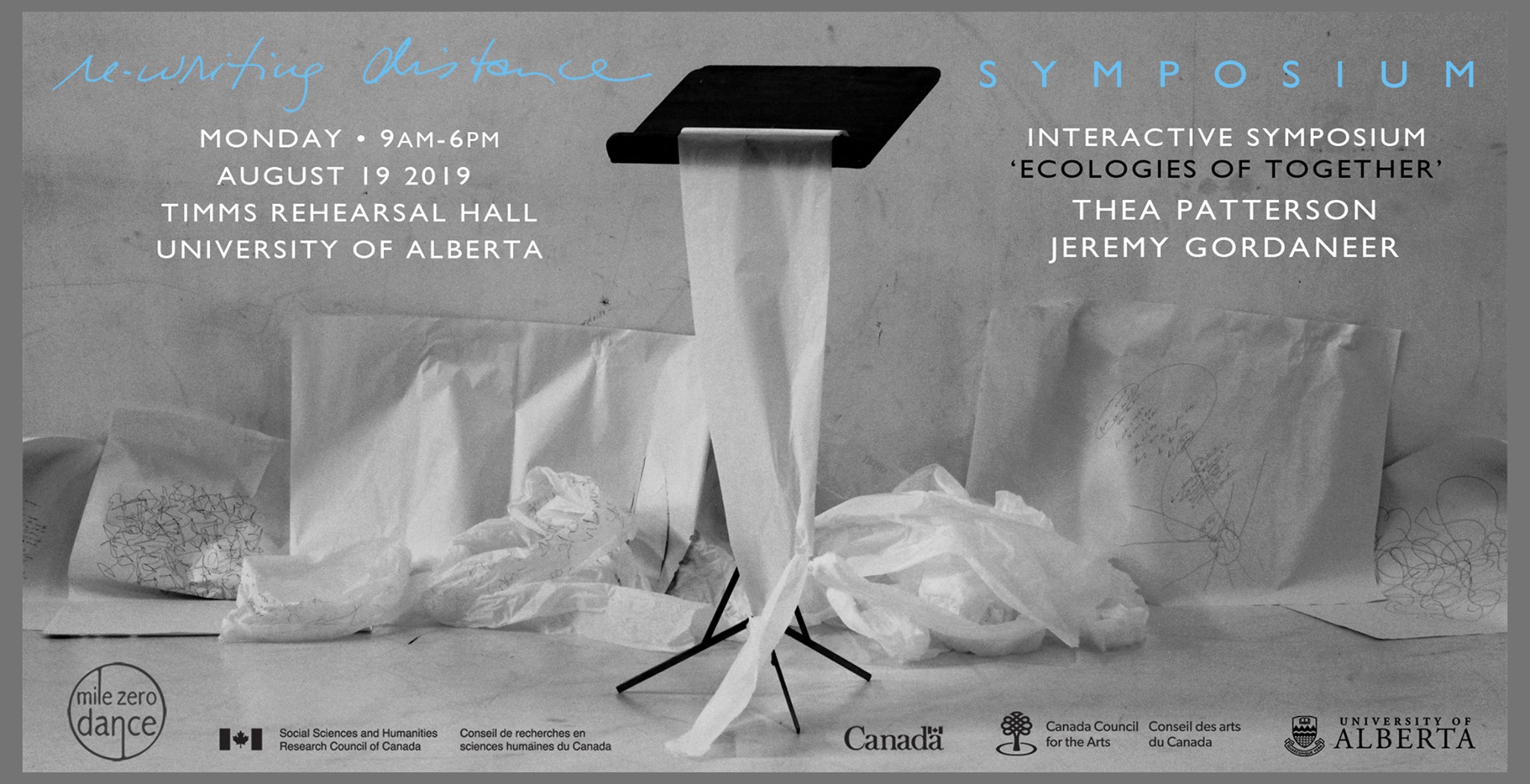 Mile Zero Dance presents: Interactive Symposium with Thea Patterson and Jeremy Gordaneer as part of the Rewriting Distance Residency
Monday August 19, 9 am-6 pm
University of Alberta/Timms Rehearsal Hall
Free
Featuring speaker and performers:
Cindy Baker
Guy Cools
Tyson Frencheater and Camille Renarhd
Rebecca John
Xavia Publius
_______________________________
Ecologies of Together: An Interactive Symposium proposes a "gathering" where academics and artists come together to heighten dialogue and practice around experiential learning and embodied performance practice.
The day will be divided into two parts. The morning will be devised as a working performative action and participatory event. The second part of the day will turn from participation to reception through performances, lectures and hybrid forms of each.
Morning session: Choreographies of Togethering (9:30 am-1:00 pm)
Togethering proposes a space where participant practitioners and researchers move through a scored series of activations and tasks that create a performative relational frame where many actions co-exist to create an ecology of shared space, which becomes a choreography of multiple voices and actions overlapping and resonating in the spaces between them. Participants will be invited to join a simple performance score that includes dancing, writing, assisting each other, reading, drawing, listening, looking, talking, gazing, spectating, and potential others. This event, open to anyone with an interest in the intersection of performance, theory and community agency, will allow participants to engage with the proposition in the manner and degree they want, and to maintain agency over their experience. ParticIpants are encouraged to wear comfy clothes and bring writing and reading material.
1:00 pm-2:30 pm – lunch
Afternoon session: Together in reception (2:30 pm-6:00 pm)
The second part of the day will turn from participation to reception as six invited guests share their artistic research, theoretical work, and performative practices as sites for affective and alternative reception. This event will follow a dramaturgy of the senses that will traverse horizontality and verticality, seeing and not seeing, and sound and silence. The invited speakers will be asked to define the terms of their own presentations based on how to engage the audience reception of the work through multi-sensorial access points.
The presenters will be:
Cindy Baker
Guy Cools
Tyson Frencheater and Camille Renharhd
Rebecca John
Xavia Publius
___________________________________
The TIMMS CENTRE for the ARTS is located on the northeast corner of 112 Street and 87 Ave. We are readily accessible by automobile or transit. The underground parking entrance is located on the east side of 112th Street.
Part of Rewriting Distance 2019 – Edmonton
What is Rewriting Distance?
Rewriting Distance is a performance/workshop practice, created by Lin Snelling and Guy Cools with photographer Michael Reinhart that allows participants to tell stories, dance, and write.
This period of Rewriting Distance continues to be about returning … going back to places we have been/and collaborating with artists we have worked with before, but in a new site-specific location. This performance is also accompanied by a Symposium at the Timms Centre for the Arts, and a Performance Intensive at Mile Zero Dance.