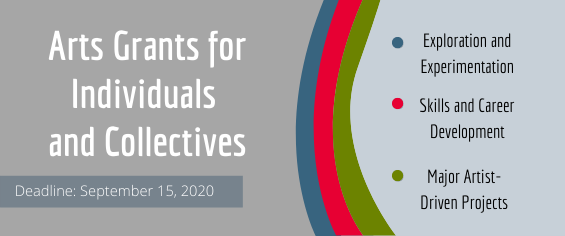 Individual artists and their work are the foundation of our arts community. Working alone or as part of a collective, they pursue work that develops their practice, advances creative thought, contributes to an art form and provides our community with a reflection of itself.
Arts Grants for Individuals and Collectives 2020 has three distinct streams, each with its own evaluation criteria and assessment process. Artists may only submit to one stream, and eligibility to apply to certain streams will be limited if the artist has been previously supported by the EAC in 2020.
Stream 1: Exploration and Experimentation: This stream will support the time needed by an artist to work on current creation or research activities. ($5,000)
Stream 2: Skills and Career Development: This stream will support professional development and mentorship-based projects for artists and arts professionals. (Up to $10,000)
Stream 3: Major Artist-driven Projects: This stream may include production/presentation that is clearly considered in light of public health restrictions. (Up to $25,000)
Approximately $750,000 will be allocated in total to the three streams in this program.
Deadline: September 15, 2020 at 11:59 p.m.
>> Click here for the guidelines.
You can read more about the new Arts Grants for Individuals and Collectives and recent changes to the EAC's granting portfolio for individual artists on the YEGArts blog.