CHAT & CHEW – Monthly Zoom Gatherings (Woezo)
June 22, 2021 @ 1:00 pm

-

2:30 pm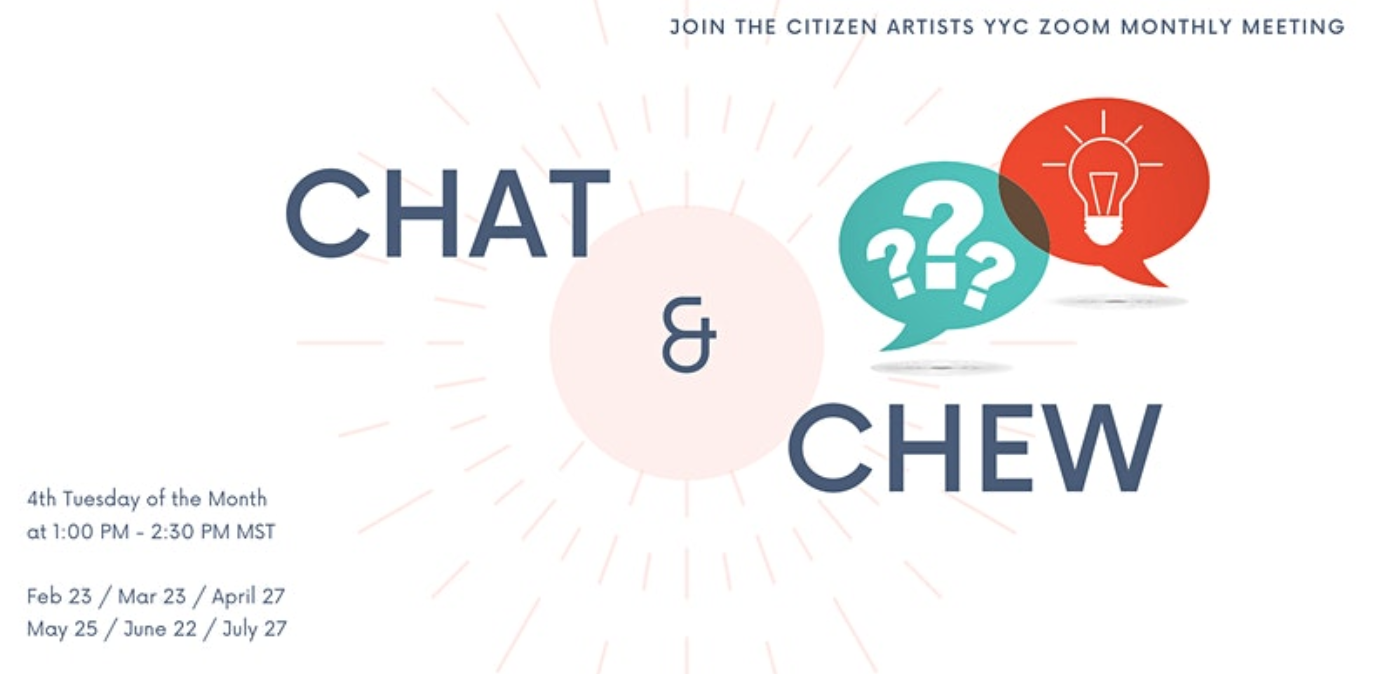 CHAT & CHEW – Monthly Zoom Gatherings
February to July 2021
4th Tuesday of each month, at 1:00-2:30 pm MST
Feb 23 / March 23 / April 27 / May 25 / June 22 / July 27
We want to invite you into an initiative that started up in Calgary in June 2020. A number of us see the importance of keeping equity, diversity, inclusion, and accessibility (EDIA) concerns front and centre as we go through so much change everywhere including the arts sector.
Gatherings will be facilitated by the Cultural Instigators (CI)*. Once a month we will gather to collectively discuss topics of EDIA to get grassroots ideas and actions going.
Have a question or a proposal for future conversation topics and themes? Send an e-mail to citizenartistsyyc@gmail.com.
*Add reminders to your Google Calendar by clicking here: https://bit.ly/3emQCEu
UPCOMING TOPIC
March 23 | Collectively instigating access to Canada Council for the Arts Funding
Canada Council for the Arts has increased investment of (66 million new funding allocated by the government) in the Research and Creation and Concept to Realization programs – opening the door to New and Early Career Artists. Upcoming grant deadlines: April 8 2021 and October 6, 2021.
On March 23rd we come together to share knowledge and uplift artists who experience barriers to applying for Canada Council grants. Artists' supporting artists to set up profiles and submit an avalanche of projects from Alberta.
PAST TOPICS OF DISCUSSION
February 23 | Acknowledging and centering the body. Embodiment supporting the work of anti-racism. Facilitate by Pam Tzeng
Details about April – July gatherings coming soon!!
————
*Cultural Instigators (CI) is an initiative to support artists involved in building equity, diversity, inclusion and accessibility in their work to organize and to create artistic projects that build the community's capacity to confront social issues. CI is funded by but not led by Calgary Arts Development.
**Event banner design by Priscille Bukasa