CALL FOR AUDITIONS
July 20, 2019 @ 1:00 pm

-

4:30 pm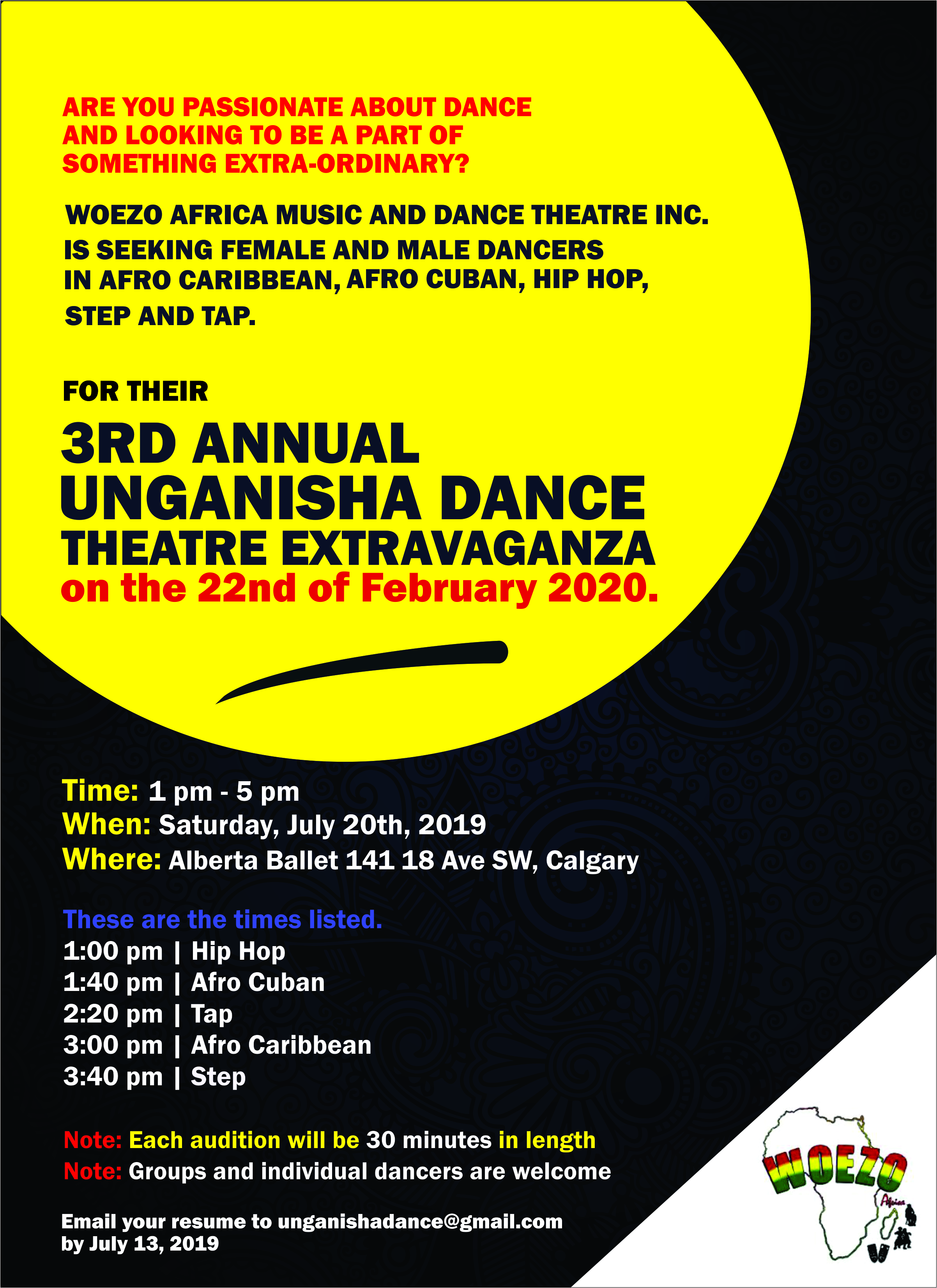 Are you passionate about dance and looking to be a part of something extra-ordinary? Woezo Africa Music and Dance theatre is seeking female and male dancers in Afro Caribbean, Afro Cuban, Hip Hop, Step and Tap for their 3rd annual UNGANISHA dance theatre Extravaganza on the 22nd of February 2020.
About UNGANISHA
UNGANISHA: Explore. Connect. Dance. is an annual dance theatre extravaganza that brings together nine popular dance genres with roots on the diverse continent of Africa. This high-impact live performance is intended to significantly increase the public profile of diverse artists in Calgary's professional arts sector and to honour Black History Month in Calgary. UNGANISHA provides Albertans an opportunity to celebrate Black History Month by recognizing the presence and ongoing cultural contributions of thriving African Canadian communities. This extraordinary showpiece seeks to build bridges promoting intercultural understanding by illuminating the threads of African traditions that are woven into more familiar, modern styles.
Feel like this is something you would like to be part of? If so, take note of the following important information and get ready to explore and connect through dance.
Details
1:00 pm | Hip Hop
1:40 pm | Afro Cuban
2:20 pm | Tap
3:00 pm | Afro Caribbean
3:40 pm | Step
Note:
Each audition will be 30 minutes in length
Groups and individual dancers are welcome
Email your resume to unganishadance@gmail.com by July 13, 2019