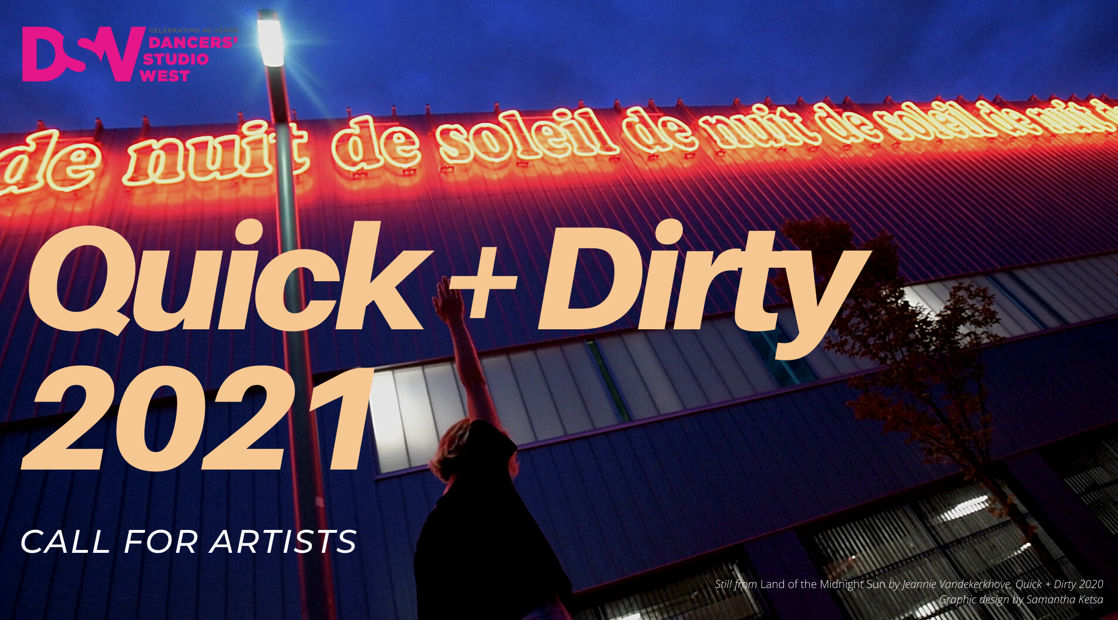 CALL FOR ARTISTS!
DSW's dance-on-film Creative Intensive and our 2021 edition of The Quick + Dirty: A Festival of Emerging Artists and Ideas
Running March 1st to April 30th, the Creative Intensive is an opportunity for dance artists to develop skills and acquire cinematic and choreographic knowledge while making a short dance film (5 minutes max!). Choreographer/filmmakers Linnea Swan and Jacob Niedzwiecki will provide technical support and compositional guidance throughout the intensive. The finished films will be streamed online, on-demand for the two-week Quick + Dirty festival run in May! Artists will receive a presentation fee of $750.
Criteria: Interested artists must have an established creative practice, have a keen interest in DIY filmmaking, and be available for up to 8 hours for online, group tutorials and one-on-one Zoom meetings with the mentors. As the entire project will done virtually, artists will be required to find their own space to work.
The CI and Q+D promotes emerging voices and fresh ideas. We invite applications from creators whose primary practice is movement-based, and we welcome exploration of all genres, forms and expressions of identity. If you require ASL translation or have any accessibility or special accommodation requests, please let us know in the application!
To apply, please submit the following information to communications@dswlive.ca by 11:59pm MDT, February 2nd 2021:
– A 3 page CV. Please highlight any dance-on-film experience you may have
– A link to a video sample of your choreography or dance film work
500 words describing what you want to work on or make
– Will you work with any collaborators, such as dancers, videographers, editors, etc.. ? Do you have anyone in mind? Or will you be doing it all yourself?
– Any accessibility or special accommodation requests
Any additional queries can be directed to our Program Coordinator, Samantha, at communications@dswlive.ca