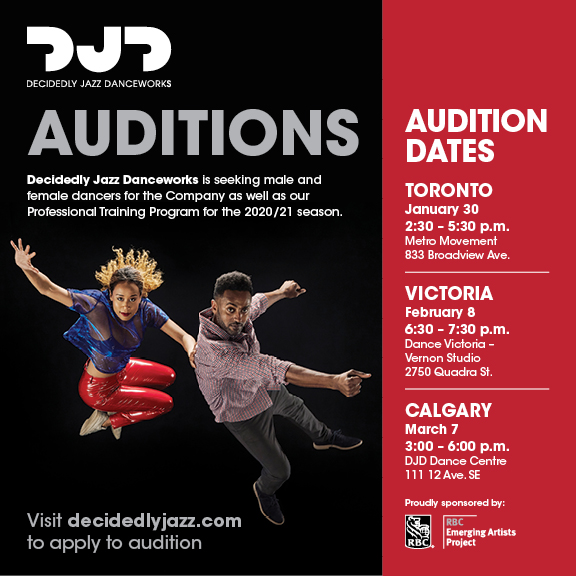 DJD is a professional jazz dance company that is dedicated to creating original world-class jazz performances, and to offering world-class training opportunities for jazz dance artists. National auditions, for both our dance company and our professional training program, take place annually.
Please email Joanne Baker to register your intent to audition. Bring resume, headshot and jazz shoes (or similar) to the audition.
DANCE COMPANY
DJD employs 8-12 professional dancers annually on a 33-42 week contract. Contracts include health benefits, chiropractic, physiotherapy, and health club/yoga studio memberships. Dancers interested in auditioning for Company positions must be at least 20 years of age, have a passion for jazz dance, and jazz music, plus strong technique and great personal groove.
For the 20/20/21 season, the DJD company will be auditioning for both male and female dancers.
PROFESSIONAL TRAINING PROGRAM
The Professional Training Program (PTP) at DJD offers 10-15 advanced level dancers an eight-month intensive training experience. The program runs Monday to Friday from September to May, offering three hours of training each day. Dancers auditioning for the Professional Training Program must be at least 18 years of age, and interested in furthering their knowledge of jazz dance and the work of DJD.
The Professional Training Program includes a limited number of paid training/understudy positions with the DJD Company. Applicants must be available Monday – Friday 9:00AM to 5:00PM. Interested dancers will be considered for these positions at the discretion of the program's director
DJD  will continue to consider applications until the end of July 2020.
DJD is dedicated to the development of future jazz artists. PTP applicants must be willing to relocate to Calgary to train under the direction of DJD Alumnus and PTP Director, Jamie Freeman Cormack along with other DJD and Calgary Dance Community Faculty.